Amongst all this conflict and confusion around food,
how do we make the best decisions
about how we feed ourselves?
WATCH AND SHARE OUR TRAILER!
"With a soft tone, respectful to opponents but insistent on the data, "Food Evolution" posits an inconvenient truth for organic boosters to swallow: In a world desperate for safe, sustainable food, G.M.O.s may well be a force for good."
- Daniel M. Gold, The New York Times
"A polished and provocative call for activists to be as scientifically minded as they believe they are."
- John DeFore, The Hollywood Reporter

"Food Evolution is a refreshingly upbeat take on a despised business sector."
- Sam Weisberg, The Village Voice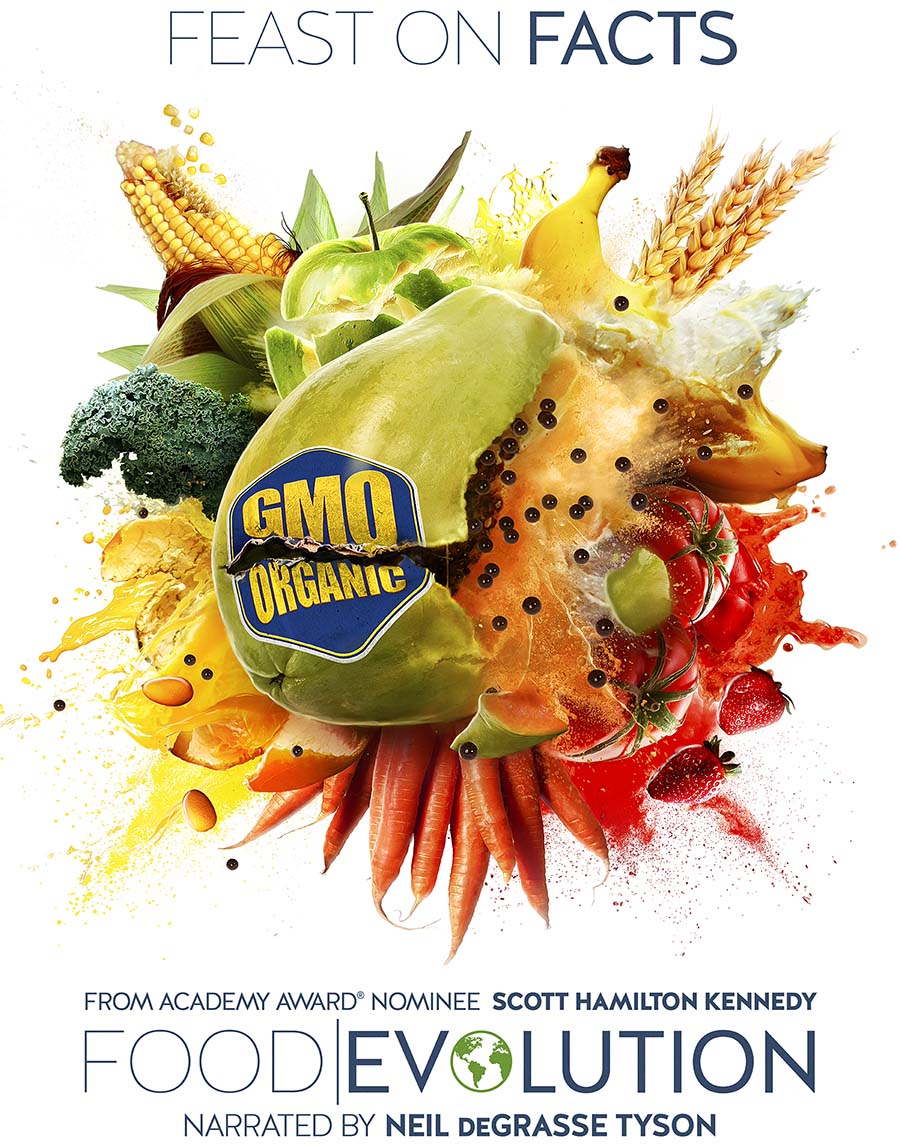 From Academy Award®-nominated director Scott Hamilton Kennedy (THE GARDEN, FAME HIGH, OT: OUR TOWN) and narrated by esteemed science communicator Neil deGrasse Tyson, FOOD EVOLUTION is set amidst a brutally polarized debate marked by fear, distrust and confusion: the controversy surrounding GMOs and food. Traveling from Hawaiian papaya groves, to banana farms in Uganda to the cornfields of Iowa, FOOD EVOLUTION wrestles with the emotions and the evidence driving one of the most heated arguments of our time.
Enlisting experts and icons of the struggle such as Mark Lynas, Alison Van Eenennaam, Jeffrey Smith, Andrew Kimbrell, Vandana Shiva, Robert Fraley, Marion Nestle and Bill Nye, as well as farmers and scientists from around the world, this bold and necessary documentary separates the hype from the science to unravel the debate around food.
While the passionate advocates on all sides of this debate agree on the need for safe, nutritious and sustainable food for the planet, their differing views over what constitutes the truth have pit them against each other, rendering the subject of food itself into an ideological battleground.
"When results are repeated and found to be true -- that is objective, scientific truth. That is the kind of truth people should base legislation on. If you start basing laws that are not anchored in objective truths, it is the beginning of the end of an informed democracy."
- Neil deGrasse Tyson
FOOD EVOLUTION is a rare, informative film about a complex technical topic that touches you emotionally. I find the content accurate and insightful. It emphasizes that the technology was developed by people who cared about humanity and aimed to solve real problems- highlighting unsung heroes like Dennis Gonsalves. It is respectful of GMO critics, but is powerful in countering their arguments and showing the destructive power of misinformation. I recommend it very highly and will use it in my classes for years to come.

Deftly juxtaposing interviews with farmers, scientists, and activists who have widely divergent perspectives about the wisdom of proceeding with GMO crops, Food Evolution never hectors, never lectures. Instead it grants to viewers the right to make up their own minds. The early showings suggest that how much they appreciate the skillful, responsible filmmaking that allows them to make informed decisions about the overly-politicized issue of GMOs.

I think you are starting a much needed philosophical debate that I hope will make all of our decisions about food (and maybe, everything else) better in the future.

There's a lot of 'buzz' in the plant scientific community about your film FOOD EVOLUTION — deservedly so — and I want to thank you again for taking on a very difficult and emotionally charged topic and setting the record straight in a brilliant way.

Thank you to FOOD EVOLUTION for redefining and elevating this important discussion. While corporate greed is blamed for the development of biotechnology, the movie correctly observes that profit-making in food and agriculture occurs on both sides of the ideological divide."

As an organic farmer for more than 30 years, I believe that Biotechnology is one, just one, of the tools that we have available to save lives and improve the environmental performance of agriculture.